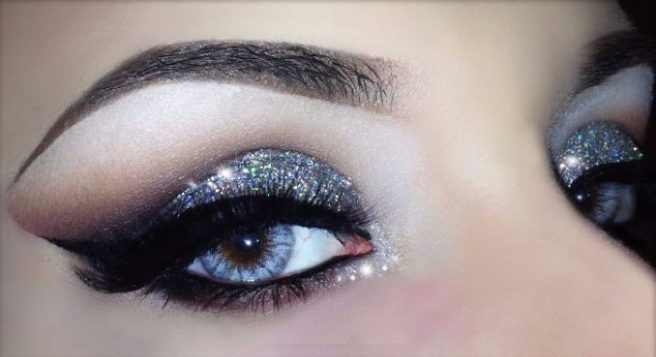 Sparkle, sparkle, sparkle.
Winter might be spreading its dark, stark fingers across the bleak landscape of this fair land, but for the savvy upbeat woman, who seeks to look her best, it's merely a fitting backdrop to our glamorous shimmer and shine.  Winter 2017 is all about the sparkle, the dazzle and the warm twinkling glow.  And it starts with the eyes!
Jeepers Peepers:  Glitter has featured everywhere in catwalk looks for this season.  A flick of sparkly colour under the brow. Yes, under the brow! A dramatic flash of sequins added to the high cheekbone. A  panache of sparkle under a graphic detailed eye  or a full on cream shimmering eye-shadow will so complete this look  If you prefer a more understated look, try adding a delicate shimmer of grey at the corner of the eyes. Eyes definitely take centre stage with soft smoked out eye and lots of eyeliner. This is achieved with taupe greys, sultry browns and a smudged kohl look. A pop of red can be added mid eyelid, if you are feeling super dramatic!
Getting arty with the eyeliner is not the look for everyone, but if you are ready to look totally fashion forward, graphic eyes are so on point this season! Upward strokes, sharp angles and geometric designs give a bold look and will add party fun to that special night out. Lashes are brash, full and fun! So called, 'Twiggy' lashes continue this outlandish celebration of 'the windows to the soul'. Apply extra-long lashes at even spaces to both the top and bottom eyelids for that wide eyed baby doll look.   Lancome Monsieur Big Mascara
There is bad news on the brow front.  Eyebrows are not so prominent anymore.  Yes, just as we have all perfected the perfect brow, the catwalks are full of neutral brow lines.  Not just barely there, but bleached into the back ground!  Perhaps, we might just hang on to our perfect 'on fleek' arches for another wee while and let the trendsetters pave the way for white eyebrows.
Glowing Skin: This strong eye look is matched with simple, perfect glow, 'no make up' skin. The look is achieved with good skin care, perfect primers  and  skin tone colour match that is both sensitive and faultless.  At Magee's, our beauty therapists have years of experience and training in assisting our clients to find the product that most reflects their need.  With a wide variety of top brand names to choose from, we are more than confident in meeting all needs. Elizabeth Arden Flawless Start Primer
Pouting in Plum: Peachy cheeks and killer pouts are completing the incandescent look of Winter 2017.   Lips are reflecting the season in all shades of plum and damson, while the more daring can flaunt the emerging trend for gold lipstick.  The metallic gold is the wintry equivalent of last summer's popular metallic lip shades.   In this case, all that glitters really is gold, but be prepared to reapply often. Clarins Rouge Eclat Lipstick
So, as we wrap up against the chilly winter cold, let your winter 2017 make up be hotter, glitzy and totally radiant. Just like you!