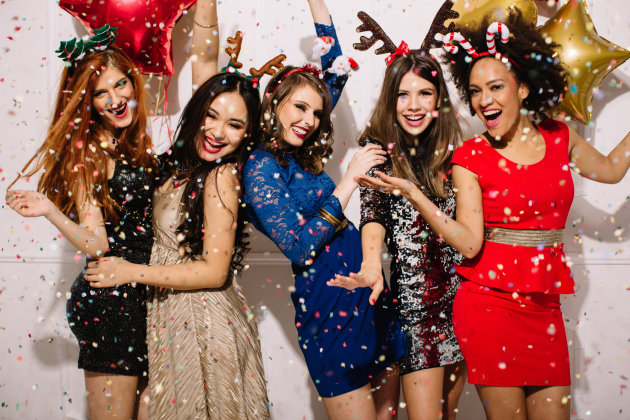 It's party time and we all need to look Fabulous for all those special festive occasions. Not to mention all those Social Media photo uploads!!
Overeating, overheating and tippling too much alcohol can take its toll on our sparkly party faces. Here are some top tips for surviving the festive season while having super fun. We can help you to keep your inner and outer beauty at its best!
Complexion: Unless you give some extra care and attention during the holiday, your skin will suffer.  Christmas and New Year parties mean a lot of alcohol, rich food, maybe some smoking, (if you are feeling really bold). Let's face it, that kind of shenanigans likes to show on the face.  Nasty dark circles, yeuchy puffy eyes, dry dull skin/dehydration and icky spots!  It is essential to drink lots and lots of water. Take some time out during the holiday madness to relax with a face mask, to cleanse a little deeper.   Serums are all the rage and their effectiveness can easily explain it!  At Magee's, we have tested many of them and you can find our list of favourites listed in our online shop. To work Serums into your Daily Skincare routine, simply rub a few drops between your fingers and press into your face after Cleansing and Toning before applying your Moisturiser.  Add Clarins New Double Serum Next Generation to your Christmas list and keep that radiance right through the party season.
Lips:  Keep lips luscious and kissable with a good lip balm. The cold weather and indoor heating combined with your hectic social calendar is no excuse for uninviting, chapped, thin lips.  Pucker up with Nuxe Reve De Miel Lip Balm with Honey & Precious Oils.  An extremely nourishing and repairing fragrance-free balm that contains no preservatives or artificial scents and has no sticky effect. Damaged lips will instantly be soothed.  Its luscious texture and its sweet taste of Honey and Grapefruit turns applying it in truly blissful moment. Acacia Honey and Shea Butter nourish and intensely repair. Grapefruit Essence provides a nice sensation of well-being.  As an added bonus, it can be used also on any dry skin patches all over your body.
Eyes:    Try to get enough sleep. I know, it's not easy with so many gala occasions to attend!  Cat naps are proven to be beneficial, if you are dancing the night away and missing your eight hours of slumber.  Revive tired eyes, with a good eye cream. Eye creams are amazing and can hide dark circles, reduce puffiness and reduce the visible signs of ageing. At Magees, we stock some of the most popular Brands including Nuxe, Lancome and Vichy.
Walk those toxins away:  Those mornings after the night before, get some fresh air.  You may not feel enthusiastic, but push yourself and venture outside into the clean cold air to walk the toxins out of your system.
Go Make up free:  In those chilled days between Christmas and the New Year, relax in front of the telly, make-up free, and let your skin recover. Cleanse well and rehydrate munching on cucumber and let your skin breath.  Treat yourself to Elizabeth Arden Skin Illuminating Retexturizing Pads.  These luxurious Skin Illuminating and Re-texturizing pads safely exfoliate the top layers of skin for a clearer, more radiant and even-toned appearance. Infused with a blend of Essential Oil, Amino Acids and Glycolic Acid, they effectively cleanse and re-texturize skin while enhancing surface skin cell renewal for a more radiant complexion. Lie back and let the magic happen!
Enjoy this magical time of year. Catching up with family and old friends is such precious fun!  Pace yourself, it's a marathon of feasting and dancing and late night prancing!  Have a good breakfast, rehydrate (we cannot say that often enough!) and follow our few steps to radiate this Christmas Season.