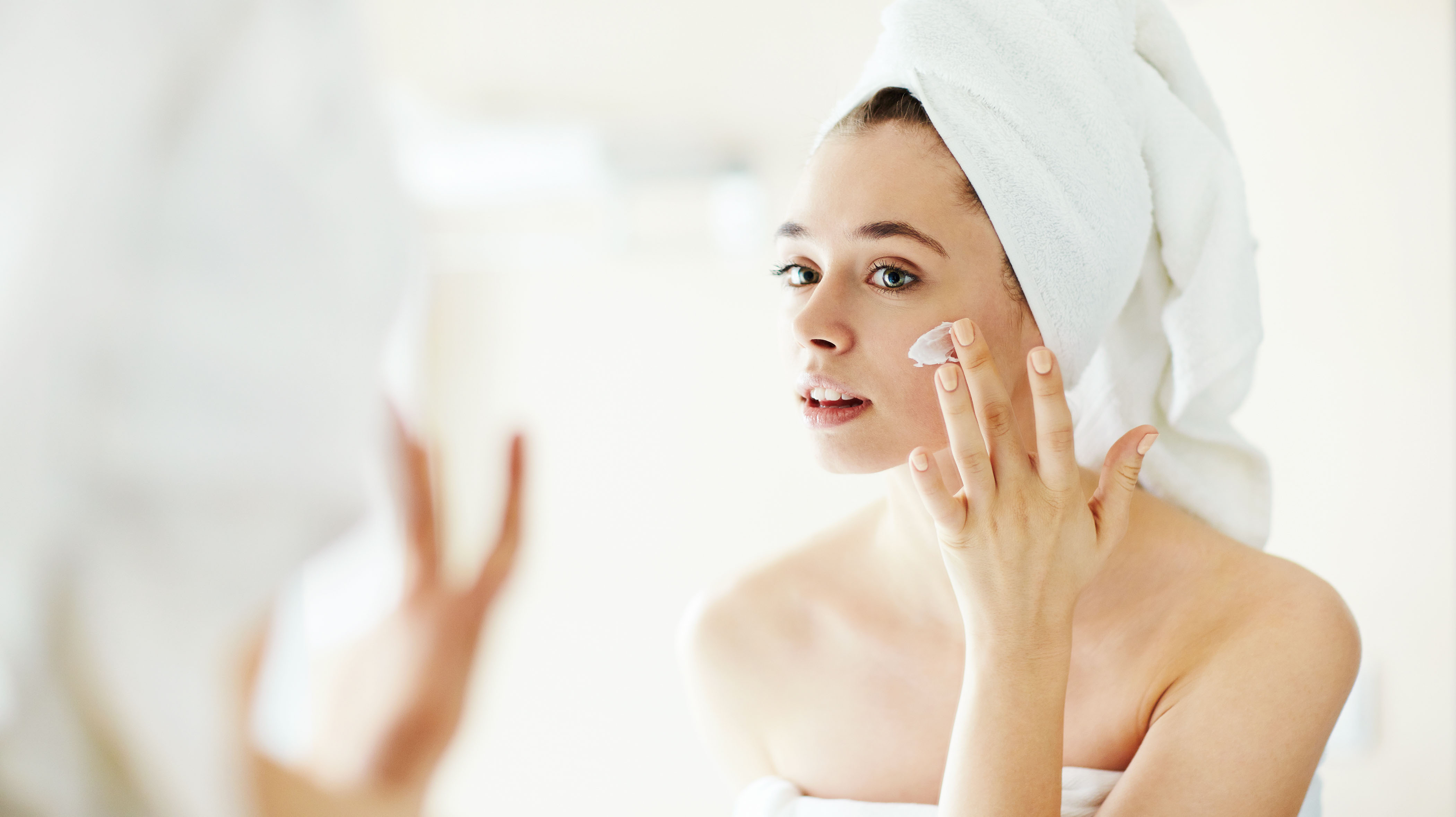 The golden rules of skincare are still the classic three step routine.
Cleanse -Tone – Moisturise
Yes, the secret of beautiful glowing skin is as simple as 1-2-3. The few minutes it takes to complete this twice daily skin care regime, goes a long way to avoiding a dull dry complexion and to avoiding those nasty signs of ageing.  This easy skin care regime will help  to avoid breakouts and blemishes and maintain a luminous, luxurious smooth complexion   While the routine remains the same as it has for decades of beauty care, (cleanse, tone and moisturise) the range of products and indeed, the technology behind those products, has advanced considerably.  One carefully chosen product can now achieve magical results as easy as 1,2,3.
Cleanse:   Cleansing is the basis of all skincare routines.  Make-up, dirt and other impurities build up during the day.  A good cleanser ensure that the skin stays healthy, glowing and prevents your pores from becoming blocked. The skin is the largest organ of the body. It could be argued that it is the organ most abused by environment, lifestyle and general health.   We need to treat it well.  Our skin has a naturally acidic film, which serves as a barrier to bacteria and viruses. Soap is generally alkaline and can counteract the good work natural acidic protective layer. The Ph balance becomes upset.  This explains why soap can sometime make your skin feel tight after use. Choose your cleanser to suit your skin type, ideally Ph. balanced and fragrance free.  At Magee's, our beauty advisors are well informed and have a wealth of experience on the perfect cleanser for each particular skin type.
Tone:   Toning removes any final traces of oil, dirt, or stubborn make-up. It also tightens the facial pores, protecting the skin from toxins and bacteria and assisting in the prevention of blocked pores.  Choosing a toner which suits your skin type is absolutely essential. There are many to choose from, but it is recommended that all skin types should avoid toners with high levels of alcohol.  While the initial 'tingle' from such toners might be invigorating, the alcohol tends to strip the skin of essential moisture. Lacome Tonique Eclat is perfect for normal and combination skin types. This is a beautiful light lotion, which evenly and efficiently exfoliates as it thoroughly wipes the dead cells from the skin. The Lancôme Laboratories have formulated Tonique Éclat with ingredients of naturally derived origin and provides a comfortable and non-drying cleansing experience. Use a good toner morning and evening, as part of your daily skincare routine.   Apply liberally to two cotton pads, then, with one in each hand, pat the surface of the skin to help it absorb the product and leave it feeling refreshed.
Moisturise:   This step three of your skin care regime is vital for maintaining healthy lustrous skin. Moisturising prevents premature skin ageing as it counteracts the natural drying of the skin and boosts elasticity, while keeping fine lines and wrinkles at bay.  A good moisturising product will keep your skin hydrated, soft and supple while also providing a protective barrier against the ravages of the world. Even oily skin should be moisturised as it prevents the body from producing too much natural sebum or oil. Too much oil can clog pores and cause blemishes.  If your skin is oily, you would be best advised to use a light lotion. Check with your beauty advisor for the best product for your skin type.  Tinted moisturisers are very useful too, as they give a light foundation cover, colour and protection.  If you choose a moisturiser with added SPF screening, you really have a perfect product for day to day skincare. Clarins Essentiel SPF 15 is a luxuriously silky cream which delivers all –day hydration while shielding the skin from pollutants and environmental stress, leaving it perfectly comfortable, radiant and hydrated.
The three simple steps of skin care should be practiced both night and morning to ensure a smooth, glowing complexion. Cleanse, tone & moisturise may take a little time out of your daily life, but the benefits are immeasurable.  Youthful, luminous smooth skin can be yours in 1,2,3  easy to follow steps.